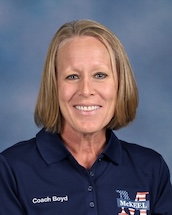 Kim Boyd
Physical Education Team
Hello Wildcats! Welcome to Elementary Physical Education at South McKeel Academy. Myself, alongside my partner, Coach Bradley, will be guiding our K-3rd grade students through a fun and exciting physical education journey. This will be my tenth year teaching Elementary PE at SMA. I have both a Bachelor's degree and a Master's degree from the Florida State University. My teaching certification is in K through 12 Physical Education. PE is powerful education! Let's get moving!
PE Rules
1. STOP, LOOK, and LISTEN when you hear the whistle.
2. Keep your hands and feet to yourself.
3. Treat equipment with care.
4. Play Hard, Play Fair, Play Safe!
PE Wish List
1. Sidewalk Chalk
2. Tissues
3. Hand Sanitizer
4. Clorox Wipes
Recommended PE Supplies
1. Gym Shoes
2. Water Bottle
3. Jackets ONLY during cold weather
Suggested Links
Physical Education Team